This Is How Kate Runs A Drop Shipping Store That Generates $32,000+ Per Month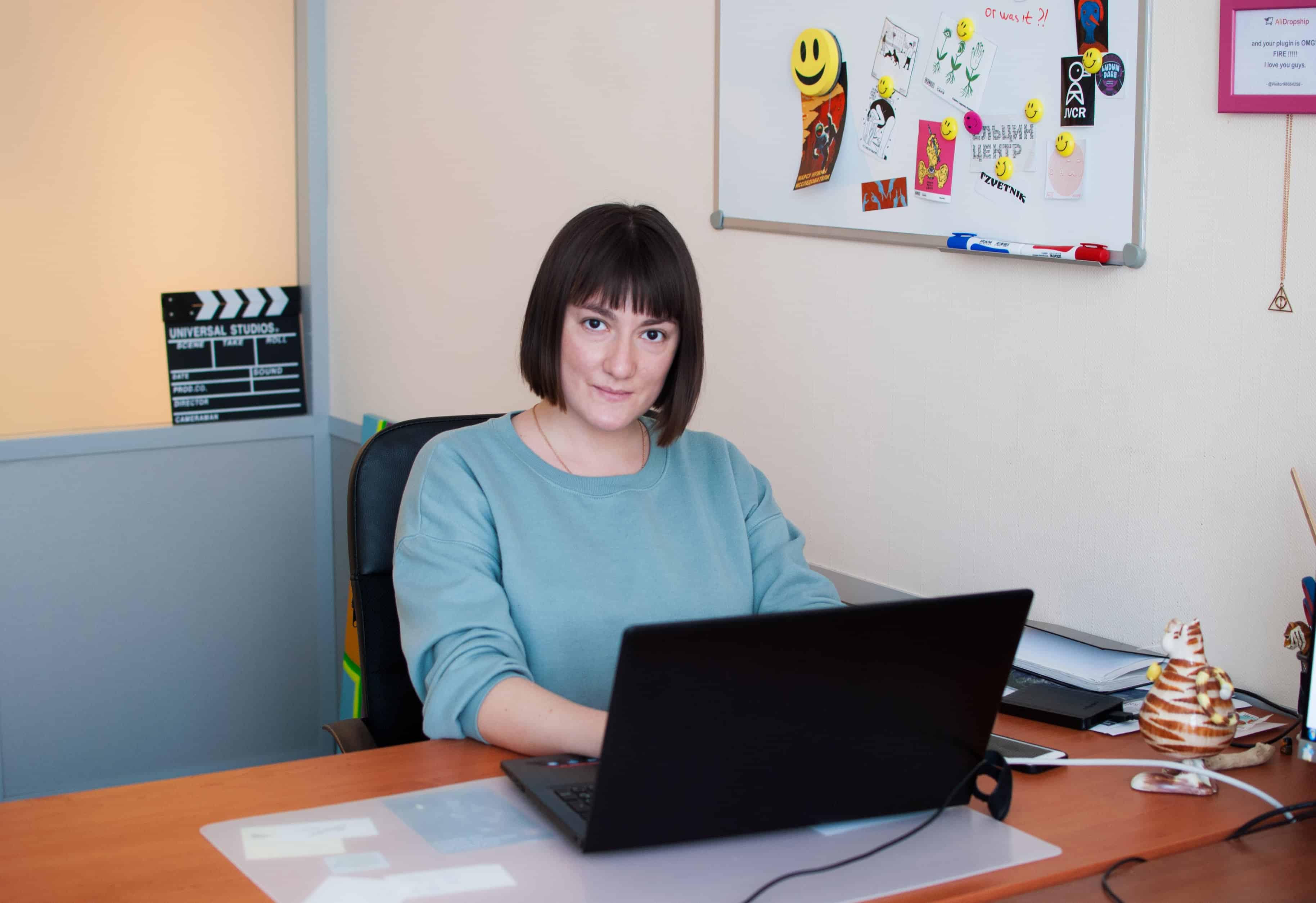 Kate, a highly valuable member of our team, runs a drop shipping store on her own – this is how she gains the necessary knowledge and experience that she shares with our subscribers and blog readers.
Hi, please introduce yourself 🙂
Hi everybody, my name is Kate and I am a project manager in E-Commerce Department of AliDropship company. Here I specialize in creating, testing and analyzing promotional strategies for drop shipping stores. Mostly, I work with social networks promotion, especially with Facebook and Instagram.
What's your experience in the field of drop shipping?
To be honest, I never heard about drop shipping before I joined the company 🙂 I started working here in 2014 as an Internet marketer assistant, and then gradually learned everything I now know about running drop shipping stores.
I have a strong educational background: after my graduation as a journalist, I got 2 additional qualifications as an Internet marketer and marketing manager. Plus, I have a broad experience of social networks promotion because I used these channels on my previous job to advertise concerts, exhibitions, lectures and other offline events.
Apart from this, I also used to work as a shop assistant in an offline gifts store – this is how I learned basic rules of dealing with clients, understanding their needs, managing their claims and objections, etc.
Tell us more about the store you're currently running. What's your store platform? Which automated solutions do you use?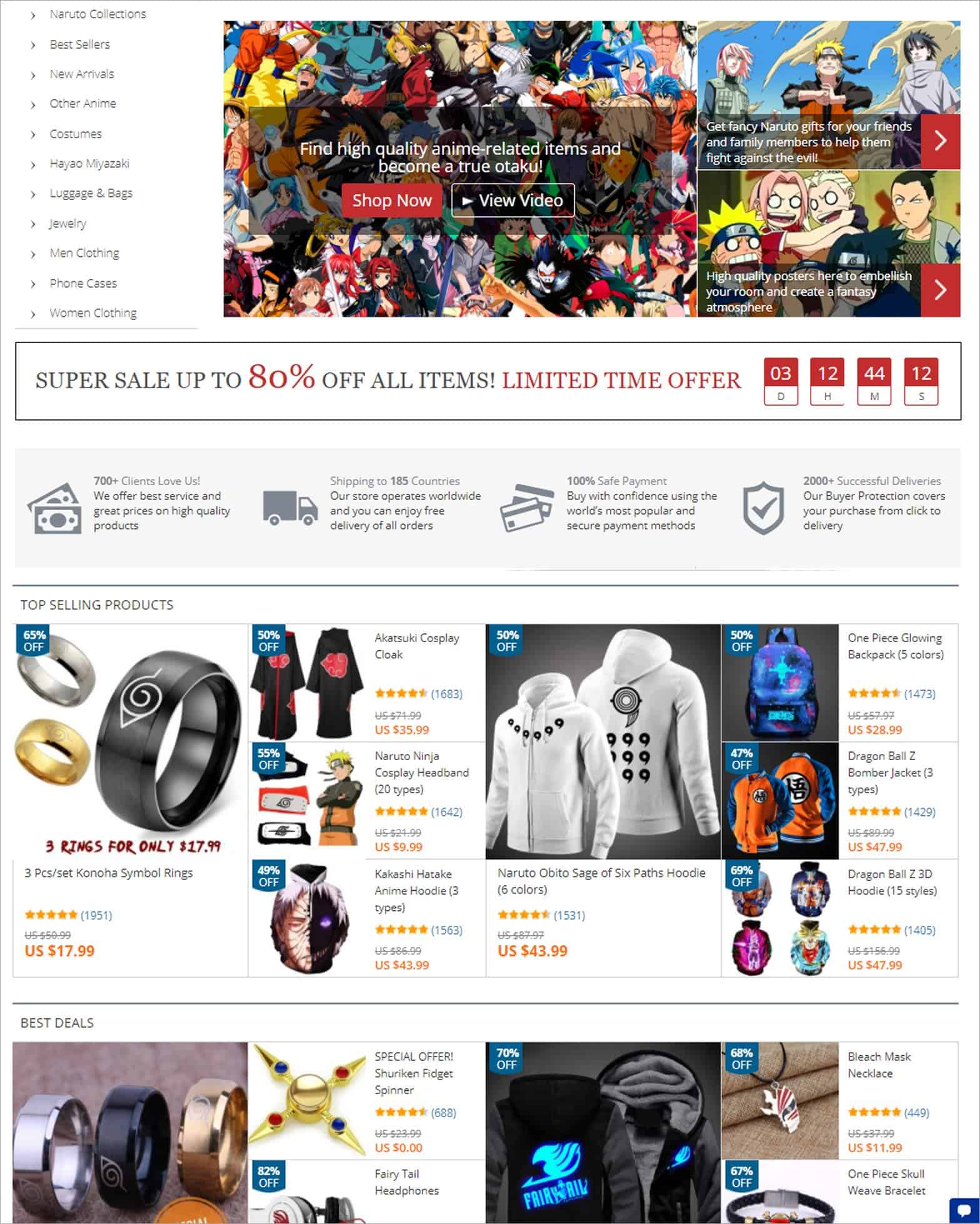 This store was created by our team as an experimental playground. Here we test all of the technical solutions we introduce, and here I try all the possible promotional strategies. This is how we gather the necessary experience and knowledge to improve our offers, and to better understand our clients' needs and issues.
Here we use the original version of AliDropship, and not the Woo one. The store is built on the basis of DaVinci theme.
The automated solutions I currently use here are:
And obviously, here I test all the newest add-ons that our developers create.
What about the niche?
This is a tricky question 🙂
You see, the store is dedicated to fan merch – here you can find various items related to some of the most popular anime series of all time.
Our team did a careful research before we finally decided that it's ethical (and legal) enough. The reason is the following: anime producers don't officially sell the merch themselves and don't view it as a source of income. This is why we aren't actually competing with them – on the contrary, we raise awareness about these series, and attract attention to them.
Of course, if we're talking about studios like Marvel or Disney, it's a completely different story. For them, merchandise is a HUGE source of income, which is why they are so strict on the copyright laws. So, please, if you're planning to sell ANYTHING that is anyhow related to copyrighted or branded items, check the laws twice and make sure that you're not doing anything illegal!
What's your products strategy? How do you work with suppliers?
When the team gave me the access to the store in May of 2016, there already were 100 uploaded products, so this is from where I started.
Soon after I started with the promotions, I understood these 100 items are not enough. To stay competitive and to engage visitors, you need to constantly update your store offer. This article describes the algorithm of choosing the best items for a store, but I also have my own tip.
The secret is the following: when you open AliExpress to find good items, don't only look at the 'Bestsellers' tab. Look at the new arrivals as well! Quite often, you can find there something that will become a hot item it your store.
To make sure it's a good choice, analyze the current performance of your store – what items are bought most often? You need to find something similar.
Look at the seller's rating carefully! This is the most important parameter that helps you understand if you can trust this supplier. Plus, consider the product rating. If the product is absolutely new, it obviously won't have any feedback yet, but if there already were some sales, it's a good idea to look at the customer reviews and overall rating.
How do you set the prices?
My pricing strategy heavily depends on the target audience.
The majority of the buyers are young men aged 18-24, and many of them obviously can't afford expensive items because they don't have their own source of income yet.
I'm very cautious about setting prices: I always do it manually because it's a different story for every new item. For example, I can increase price of rings or pendants 4-5 times – they are initially cheap, so this increase won't be uncomfortable for a customer. But hoodies and sweatshirts are more expensive, which is why I don't think it's reasonable to increase their price that much.
Plus, I consider the reviews from AliExpress buyers: if there are any real-life photos, I look at the quality of items and decide what percentage of price increase is fair.
How did you understand who's your target audience?
I use Google Analytics to gather data about the store visitors and buyers. With the help of Google Analytics, I can see demographic features of the customers – their gender, age and country of residence.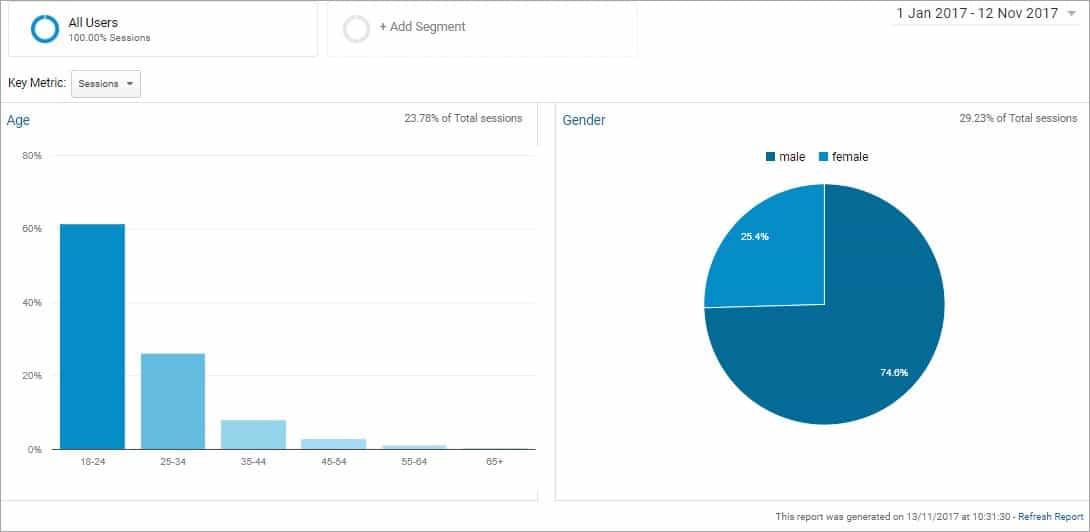 I track these parameters every day to always be aware of my customers' data. Plus, here I can also view the most productive traffic and sales sources.
Of course, Google Ads is not the only tool I use to learn more about my target audience. Facebook Ads also help me a lot.
When you run a targeted advertising campaign on Facebook, it is also possible to understand your customers better.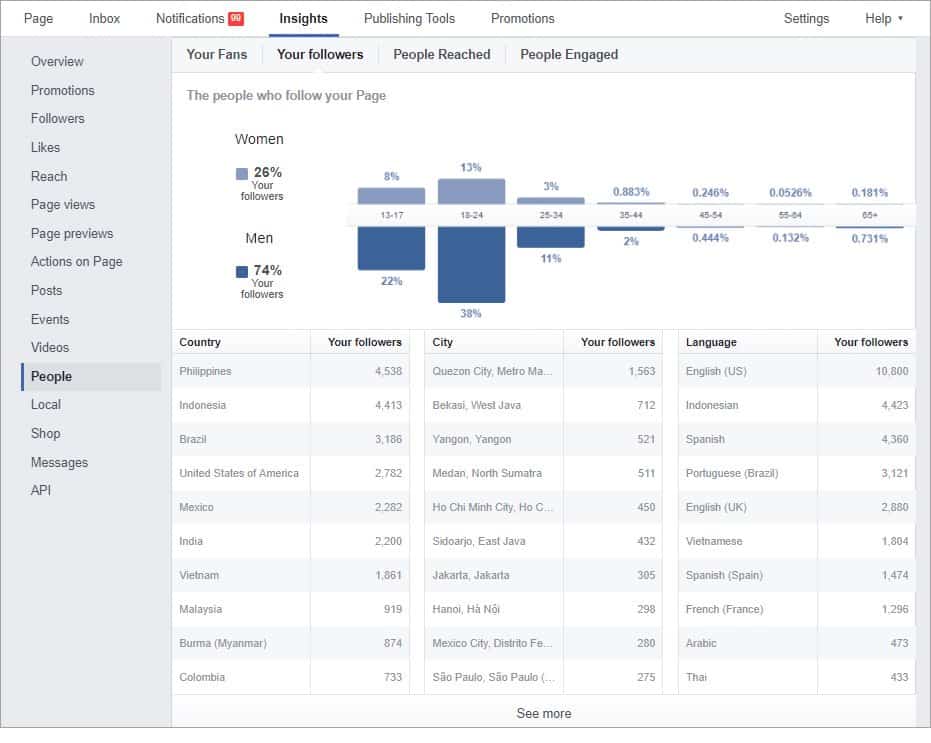 Apart from their basic features, you can learn even some personal details, for example their interests.
How do you promote the store?
I specialize on social networks promotion, and mostly do it through Instagram and Facebook.
When I started managing this store, it already had integrated social networks accounts. At the beginning of this journey, in May 2016, there were about 3,800+ followers on Instagram – now there are more than 81,000 of them.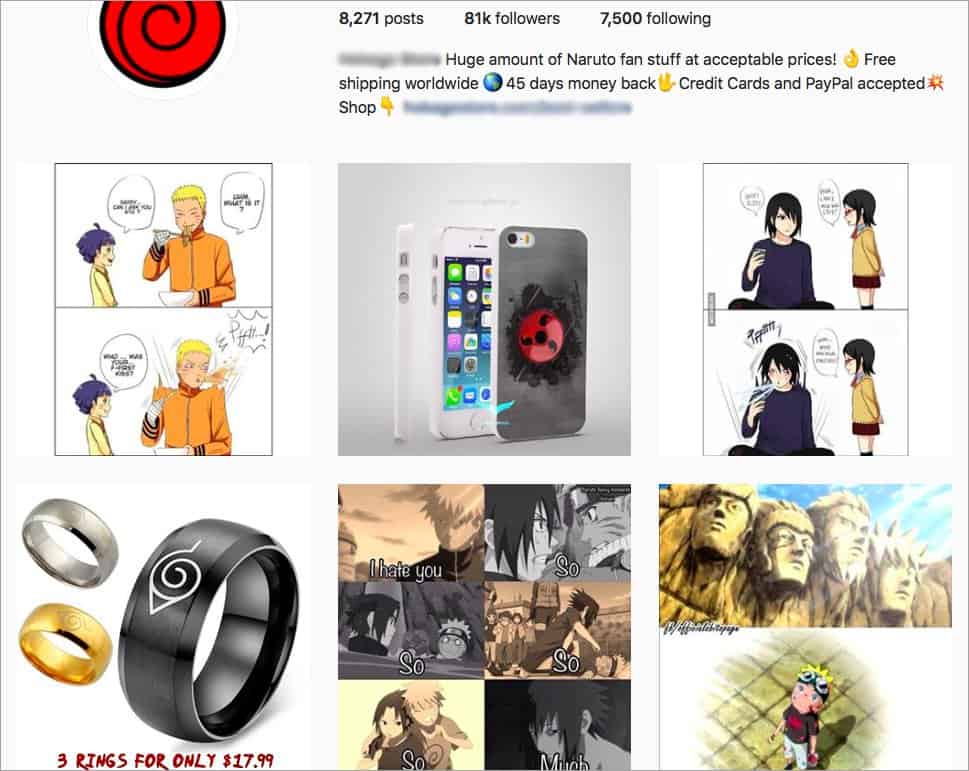 Here you can see the detailed stats on the account performance: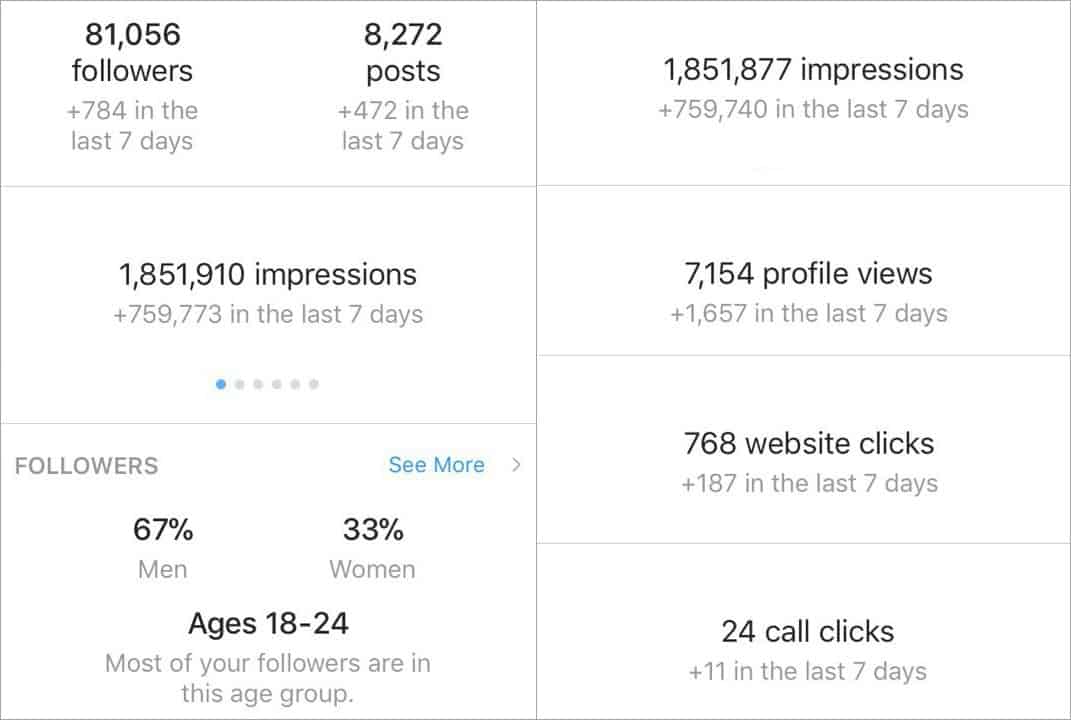 These great results were achieved thanks to a combination of many different efforts. I started with the basic steps that don't require any finances: writing an appealing bio, analyzing the most promising hashtags, experimenting with various post formats, etc. – some of these techniques are described in this blog post.
Also, the Social Rabbit Plugin helped me a lot because he does all the job automatically. Read this article – it is a good example of choosing Social Rabbit's settings for an efficient promotion.
Apart from Social Rabbit, I also promote the store with Instagram Ads – you can read more about it here.
What is also interesting, this was the first store ever where I experimented with Instagram Shoutouts. This was a challenging and insightful experience – now I can share my knowledge about it.
Of course, Facebook also plays a very important role in this promotion. There were about 2,000 followers at the beginning, and now there are 34,000+ of them.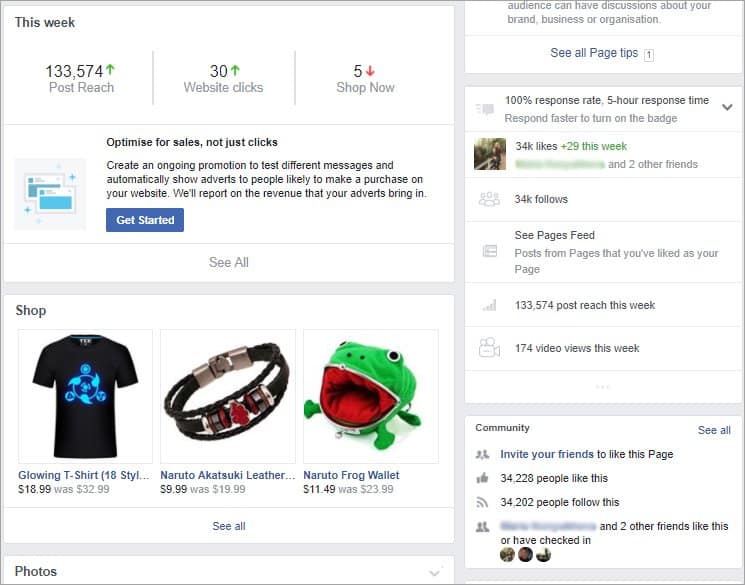 To promote the store on Facebook, I use Facebook Ads. This is a type of paid promotion: my advertisements are shown in the News feed of the store's potential buyers. Plus, the ads are also show to the people who have already visited our website, and to the ones who even put something in the shopping cart but never completed the purchase. This advertising technique is called remarketing – you can do it after you set up Facebook Pixel.
I don't only use social networks for promotion because I try to experiment with other channels as well. For example, I use a specific strategy of content marketing: I find (or rewrite) interesting anime-related articles for the store blog, and advertise them on Facebook to grab the attention of potential buyers. Here, the mechanism is described in more details. I really like this method because it's not just straightforward and obvious selling tactics: it's all about making a person engaged and motivated to go and check out the product in the store.
Finally, I use Google Shopping. It's one of my favourite instruments because it's semi-automated and it brings a lots of sales – on average, it generates about 300 sales per month. It works the following way: when a person uses Google to search something anime-related, the store offers get shown on the search engine results page. In other words, a person immediately sees the picture of an item, its price and description. This is very convenient because the data on the item's price and stock availability gets constantly updated, which is why I don't spend extra money on rewriting the ads, and potential customers become more loyal to the store offers.
Do you remember the first sale made from your store? What have you done to achieve it? How soon did it happen?
It was a ring 🙂 Somebody bought it right after I launched my first ever shoutout. Basically, the $5 I spent on this test promotion were a good investment!
What is the store performance now?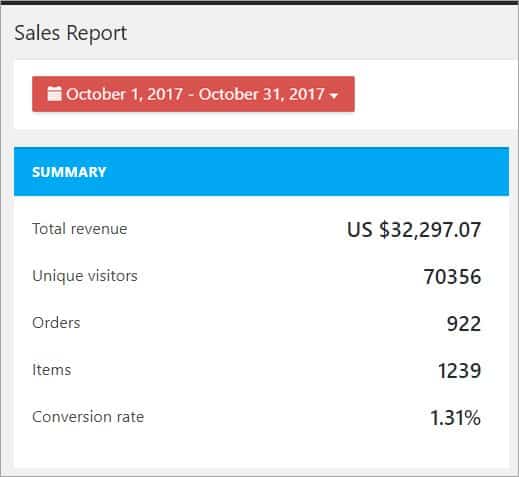 The screenshot says it all. In October 2017, the store had 922 orders and more than $32,200 in revenue. The numbers are awesome, but I'll do my best to boost them even more.
How much time does it take you every day to manage your stores? Which task(s) demand more time than others?
I spend about 4-5 hours every day to keep the store in a perfect working order. The most time-consuming tasks for me are:
 

Creating advertisements (texts, banners, posts, etc.)

 

Thinking of the best settings for these ads (targeting, time, placement, etc.)

 

Talking to clients. This probably takes the majority of my time
I do my best to answer all the comments and direct messages, and to connect with clients in other ways. Actually, there are multiple ways for the store clients to talk to me and ask something:
 

Comments and messages on Facebook and Instagram

 

Live chat that is integrated into the store – when I'm offline, the messages are saved by the system, so I can deal with them later when I have the time

 

Email

 

Skype and pre-recorded Skype auto responder
The quicker you respond, the more trust you generate. People are glad to understand they're heard, and they become more loyal.
What's your way of dealing with clients?
I try to be as customer-focused as possible. The reason is, if you are kind, patient and polite with your client, it leaves a very good impression – and it even neutralizes a negative shopping experience. If the buyer is unhappy with the delivery time, or with the quality of the received product, or maybe if a seller mixed up the order and sent a wrong item, it's not a disaster and not the end of the world. Stuff happens. I'm always ready to talk to a client if something like this has happened, and I offer different options to solve the problem: a full or partial refund, a discount on future purposes, a re-order, etc.
I'd say it gives good results: our happy buyers quite often post their purchases on Instagram and tag the store account. Check out these examples:

This is great for the store recognition, and for the reputation, and for the word of mouth. Plus, it's simply touching to know that your efforts made someone happier 🙂
Obviously, it's not all roses. Many buyers mix us up with some other sellers, and angrily demand their purchases, and say I stole their money, and swear in the comments. Once, I had a very angry guy from the US who was calling me deep in the night and shouting at me because he didn't receive his order. It happens because the store's niche is not really unique, so there are lots of competitors who often copy our appearance and marketing techniques. In such cases, I write a message to this person, and ask to show the official confirmation email of the purchase – after this, people quickly understand they're dealing with a totally different store.
What can you tell about your competitors?
There are TONS of them. The niche itself is lucrative and not really original, which is why many entrepreneurs try to make a good use of it.
And yes, many of them research my strategies and try repeating the same actions. Some of them even make social networks' accounts that look totally like mine, which causes confusion. Look at these ones: they are really similar, right? If you don't read the account name, you can easily mix them up.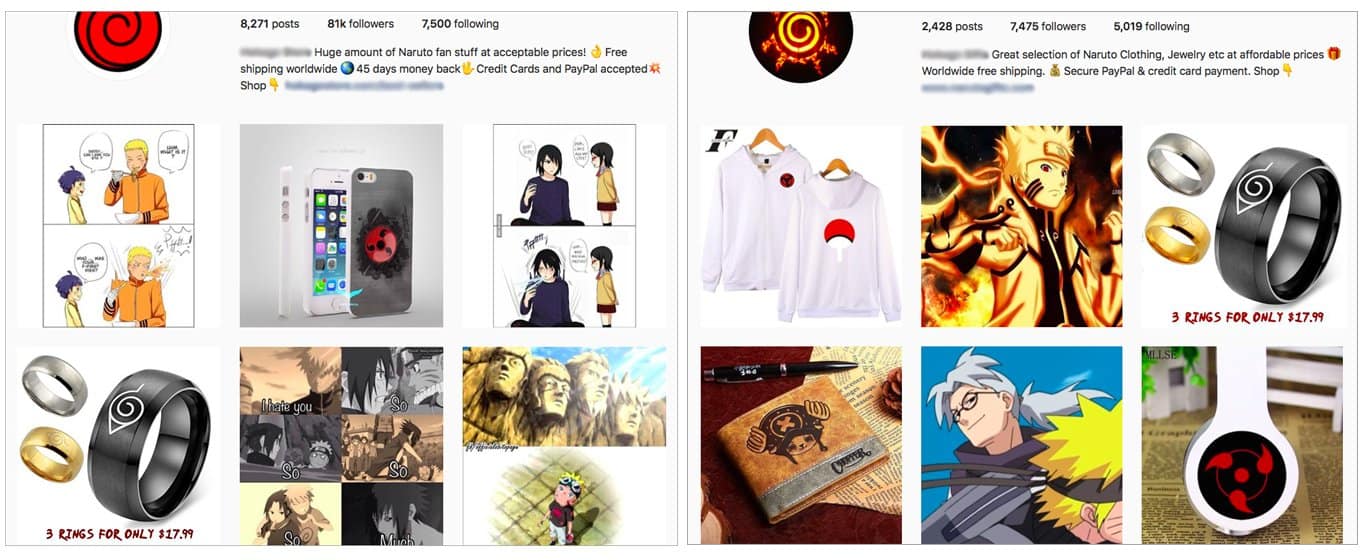 So what? As for me, competitors aren't a big deal.
They learn from me, and I learn from them. This is a 100% normal business situation. Outsmarting them is difficult but entertaining, in some way.
What are your plans for the future?
I will enhance the product offer soon. I'll add a new product category that is more broad and more generic that the current one, so I will be able to target several absolutely new customer segments.
This will give me the opportunity to rethink the marketing strategies: I will start learning new promotional channels, such as Twitter and Pinterest. They have different mechanics, and I'm really curious to learn how to treat them right.
What can you advise our readers – those who already run their stores and those who didn't start the business yet?
Don't be afraid.
At the beginning, it might seem like something complicated and not really understandable, but this definitely shouldn't scare you – you will learn everything in due time.
It's a good idea to always stay in the 'test' mode and try out new and newer things all the time. Focus on the short-term period: before you fully understand your target audience, there's no use in ordering an expensive ad that will run for a long time.
Monitor the store performance and efficiency of everything you do EVERY DAY – as soon as you notice that something is working great, stick to this mechanism and try to improve it ever more.
Never forget about your target audience – always remember their distinctive features, needs and wants, and try to be friends with them.
Monitor the global trends and be aware of the hottest news and tendencies because it can make a difference in your product offer, technical solutions, marketing strategies and all that.
1 Comment sorted by Votes Date Added
Leave your comment