The Best Is Yet To Come: Alex Shares His Experience Of Dropshipping In Russia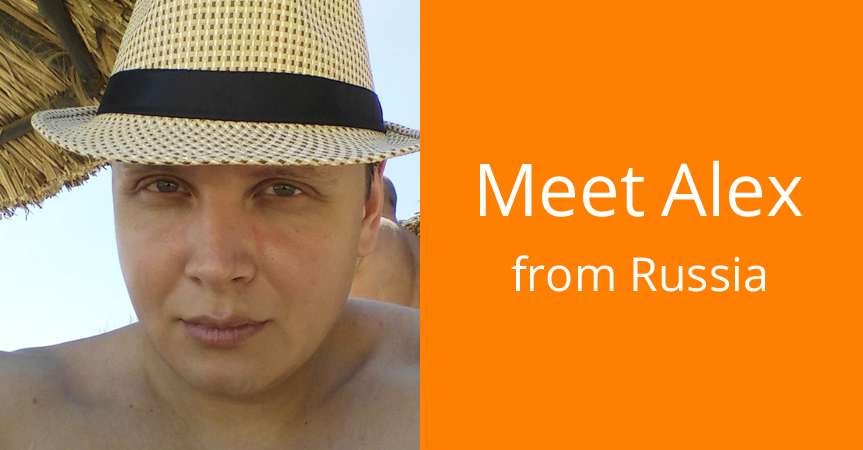 Every huge dropshipping story has to start from something. Even humble beginnings can turn into world-class enterprises if you make enough effort.
This is why we're always so happy to share real-life feedbacks from the owners of medium-sized dropshipping businesses. For all the newcomers out there, they are a true inspiration: it feels much easier to relate to them as these milestones seem quite achievable!
So, today, we're welcoming Alex – a dropshipping entrepreneur from Russia who is making his small yet confident steps on this exciting business road!
Disclaimer: all the success stories published in our blog are the results of interviews conducted in the written form. Even though the editors may make some minor changes to the grammar, spelling, and/or punctuation, the respondents' writing styles, views, opinions, stores screenshots and personal photos are left unchanged.
Hi, please introduce yourself!
Hi, I'm Alex from Russia, Moscow. I have a PhD in IT, and I've been working in the area of Internet Retail and Wholesale since 2010.
Before you started dropshipping with AliExpress, did you have any previous experience in eCommerce, or in trade, or in online sphere generally?
Yes!
I tried to get into eBay business multiple times: in 2006, 2008, 2010, and even in 2019. I wanted to sell mobile accessories, but to no avail. In the period from 2006 to 2008, I only had a few sales, and in 2018-2019, I had no sales at all. With almost no views and no sales, this platform turned out to be useless for me.
Also, I had an experience with Amazon Sales Platform. It was so negative! 0/10, won't recommend to anyone.
Why and how did you choose the dropshipping business model, after all?
It has all began in 2008, when I opened a small online retail shop for Russian residents.
At that time, I was experimenting with different types of online business, and what I liked about dropshipping was that it can be automated using 'robots'. I preferred this style because it lets me work when I want, and rest when I need.
But at that time, there wasn't any ready-made tools to automate the daily routine, so I had to invent something myself. I developed my own solution, and it required a lot of coding from my part. Yes, it helped me get the first sale in a week after opening the store, but to achieve this sale, I invested so much of my own time and energy!
How did you learn about AliDropship solutions?
I wanted to create an online store on WooCommerce platform, so I was looking online for useful WooCommerce plugins. That's how I found AliDropship Woo.
It looked nice, so I downloaded it and found out that it is the thing I was looking for. It is not perfect and needs improvements, but it can be used without any modifications, "as is",  and it's great. Certainly, it's much better than my own solution that was developed 10 years ago 
 Then, I had to do a lot of coding myself, and I couldn't rely on anybody.
Now, I use almost all the tools AliDropship offers – all for PHP 7.0.
How many stores do you have now? How do they perform?
I have 9 stores, and 4 of them are built on AliDropship. On average, I have 3-20 orders every day. Here is a sales report from one of my stores.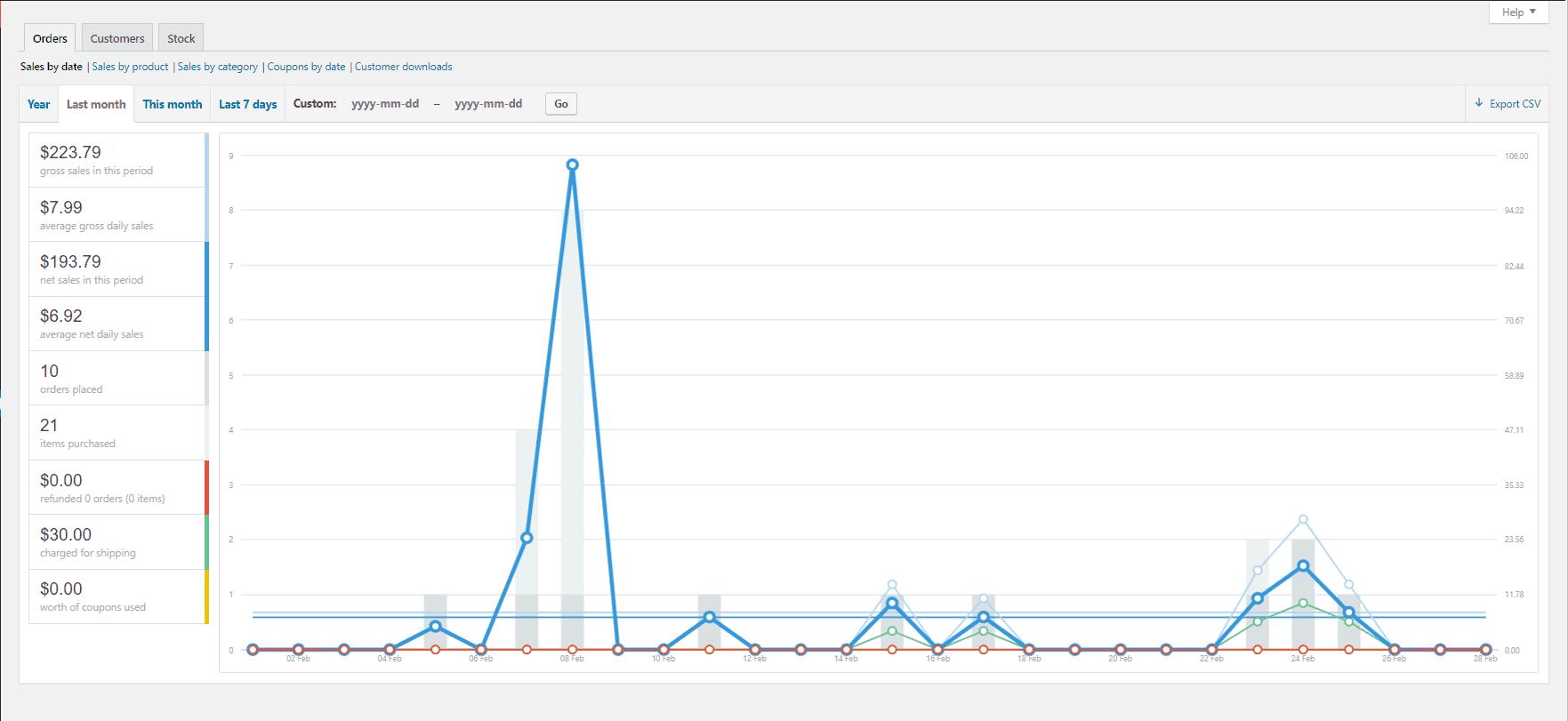 It isn't much, but the brand itself isn't very strong.
And here is the traffic for the first two months of this year.
To choose the niche for my stores, I didn't have to make any special research. I'm working in the same niche since 2010, so, by now, I know it inside out.
What is your product and pricing strategy?
I don't need to go over the whole AliExpress to find the perfect products. Instead, I only concentrate on several stores of one particular Chinese supplier. He is my regular partner, so I simply sell his products.
I focus on high-quality products and only add the best items to my store. I do not sell garbage. For each of my stores, I set slightly different product prices depending on the store idea and my buyers' possibilities.
How do you research your target audience and promote your stores?
To understand my buyers and to make my offers more relevant to them, I track Google Analytics data regularly, and also use Facebook Pixel.
Interestingly, the most efficient marketing channel for me is natural Google search results – SEO rules! 
 Some months, I don't even spend anything on marketing, and some months, I may spend up to $200 on audit or something.
I also tried to use Facebook and Vkontakte (a similar Russian social network) to place my ads, but I had to give up on them. They were bringing no profit.
How do you manage your stores on a daily basis?
Every day, I spend from 1 to 20 hours on my business management. I work hard and always try to find something new to make my stores perform even better.
The most time-consuming tasks are translations, sorting out the email requests, and wholesale order calculations.
Also, I have to deal with 'strange' or unfair customers quite a lot. Mostly, I try offering them a refund to solve our issues peacefully, but sometimes, I even have to block their emails 
Did you register your dropshipping business in Russia officially?
Yes, I have registered it as a limited liability company, so technically, I'm a fully legitimate business owner 
By the local laws, it's enough to register a sole proprietorship if you want to run such a business.
How has your life changed?
As for now, I am working for myself, living for myself. I think it's a really meaningful change!
I have inspired some of my friends and relatives to try repeating my steps. However, not all of them understand the idea of it: someone just goes envious, and someone tells to stop wasting my time and to go work on a factory 
What are your plans for the future?
I want to expand my business heavily.
First of all, I want to shift my business focus: I'd like to do less retail and more wholesale.
And also, I'm planning to stop focusing on a Russian audience exclusively. Ideally, I want to take my enterprises on the global level and do international trade.
What can you advise our readers – those who already run their stores and those who didn't start the business yet?
Try it. It is better to try and fail than not to try at all and regret about it.
We admire Alex's honest feedback, and we're grateful he has shown us what it means to run a dropshipping in Russia! By his example, he proves it that everything is possible for a dreamer – and we hope that someday, you'll follow in his footsteps, too.
0 Comments sorted by Votes Date Added
Leave your comment