How To Run Multiple Dropshipping Websites In India For Profit? Ask Sagar!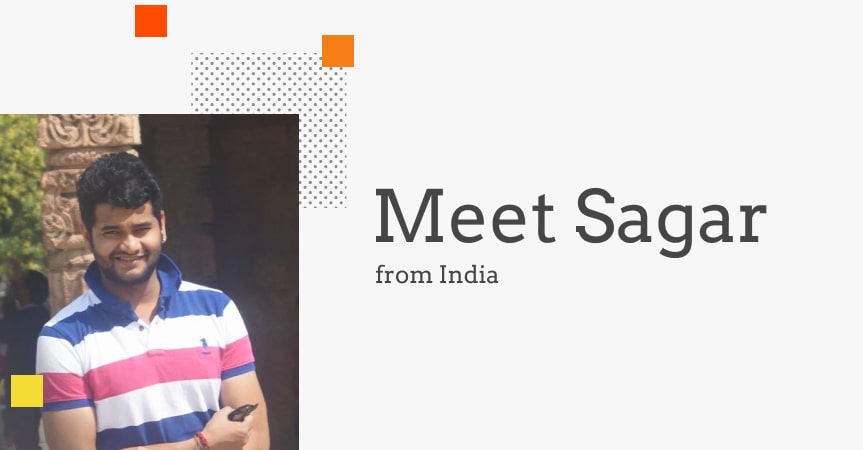 Lots of our clients manage their successful dropshipping websites in India, and our today's guest is not an exception!
Meet Sagar – he's running several different online ventures, and is excited to share his experience with us!
Disclaimer: all the success stories published in our blog are the results of interviews conducted in the written form. Even though the editors may make some minor changes to the grammar, spelling, and/or punctuation, the respondents' writing styles, views, opinions, stores screenshots and personal photos are left unchanged.
Hi, please, introduce yourself!
Hi, my name is Sagar Baranwal and I'm from Varanasi, a city in North India. I am an Engineer by education and now own a Digital Marketing Training Center based in India & few other Online businesses, including my Dropship website for the Indian subcontinent.
Did you have any experience before you started working with dropshipping websites in India?
Yes, I have been working as a freelance Digital Marketer for the last 3 years along with a full-time job. I have been involved in Affiliate marketing and Blogging for 4 years.
Why did you choose the dropshipping business model, after all? How did it all begin?
After setting up my Digital Marketing business successfully, I had enough time to look for other online businesses. Dropshipping was attractive because of the smaller time commitment necessary to maintain the business. I ended up choosing dropshipping after realizing I could still run my Digital Marketing business and be profitable with dropshipping as a side gig. Plus, dropshipping is fun. I really enjoy choosing the products in a niche I already know a lot about. So it's more of a hobby that makes me money. Can't beat that!
What can you say about the tech dropshipping solutions you use for your business?
Choosing a dropshipping solution was not an easy choice, there are many similar services available on the market today. So I was looking for a one time solution to reduce my recurring charges and this company has it. By using its service I am able to reduce my overall costs and my workload to at least 80%. I'm glad I switched and chose them.
How many stores do you have now? How are they performing?
I have 4 stores. Two of them are built on a special plugin and are working great. They are new but I've had great success with recent promotions and audience building.
I am also thinking of migrating my existing stores to this plugin by hiring some developers.
How did you choose the niches?
This is the most important part, it's not just the niche, it's about your interest. I looked at all the hobbies I have and at the audiences that I know. Once I could see something that interested me I knew I had a market. Think of it this way: if I sell products I want to buy, I know others will want to as well.
How did you choose products and suppliers for your stores?
AliExpress has a wide range of products for the site. Based on the niche I usually like to test products by running a few ads or doing audience research. After getting a few orders I had a conversation with the suppliers who pointed at related products for a better price. I try to add products at big yearly events, like the spring, summer, winter, or national holidays of a target country, like 15th of August for the Independence Day sale. Pricing is difficult, to start I make sure I double the price.
Do you remember the first sale made from your store?
Yes, I still remember my first sale. It took almost 28 hours to get the first order, I knew it was a good start and I increased the marketing budget for it. Here, I will recommend the use of Facebook Plugin offered as an Addon. This plugin is magical and gives you the power to analyze the FB Analytics with ease.
How do you promote your stores?
I am promoting this store via FB Ads. One of my other store on the plugin is getting sales organically and I have already started attracting my audience to it on social media. You never know which channel will perform better in the beginning so I keep on testing and if any channel is not performing well for business I keep that business away from that channel. On average, I am spending around $250 monthly (minimum) on each of the dropshipping websites I own. 
How much time does it take you every day to manage your stores?
I spend 8-10 hours a week for my dropshipping business. Planning and Strategy to run Ads takes main time since the rest of the things are almost automated. I am blessed with a few good people and luckily they are my partners so if there are any challenges we try to resolve them at the earliest. So, once I have a solid marketing plan for each site I expect my time commitment to drop to about 4 hours a week.
How do you deal with difficult customers (if you have any)?
Customer service is the part where you need to be careful and patient. I usually provide them with some offer on their purchase. I try to reply to their queries/comments asap so they don't get mad. This way they know that their order is safe and secure.
Did you register your business officially?
Yes, since I work with other Online Ventures apart from running dropshipping websites in India. However, in my country it is not necessary to get a company registered if you want to open a dropshipping store. An individual can open a store using Bank Details, PAN & any Government ID  issued in India.
How has your life changed? What do your friends and family think about your business?
India and Indian's are a little different when it comes to family. Not everyone has knowledge about online assets. I have my family support but they don't know much about online business. Starting in dropshipping has given me the confidence and freedom to enjoy my life and be proud of myself. I am excited about having it as a constant part of my life.
What are your plans for the future?
I am expanding this website to other countries and have already started 2 other Stores. Once I have reached my current goal I will get some Inventory and switch to Woo Commerce.
What can you advise our readers – those who already run their stores and those who didn't start the business yet?
For people who own store but are struggling I would suggest this:
Research ->>> Struggle —->>> Survive ->>>>>>Grow.
To people who haven't started yet and think about starting soon, I would suggest to pen down the things you can perform and then decide on which plugin you want to use. If you are not familiar with WordPress I would say get a Custom Store service: the knowledge base is enough to get all the required info to run the website.
So, if you've ever wondered about the potential of dropshipping websites in India, you have the answer now! As you can see it from Sagar's story, this business lets you enjoy something more than financial security: it also can be can be a fun and entertaining money-making hobby! 😉
1 Comment sorted by Votes Date Added
Leave your comment