Dropshipping In Mexico: How Tony Made $42,100+ In The Month Of His First Sale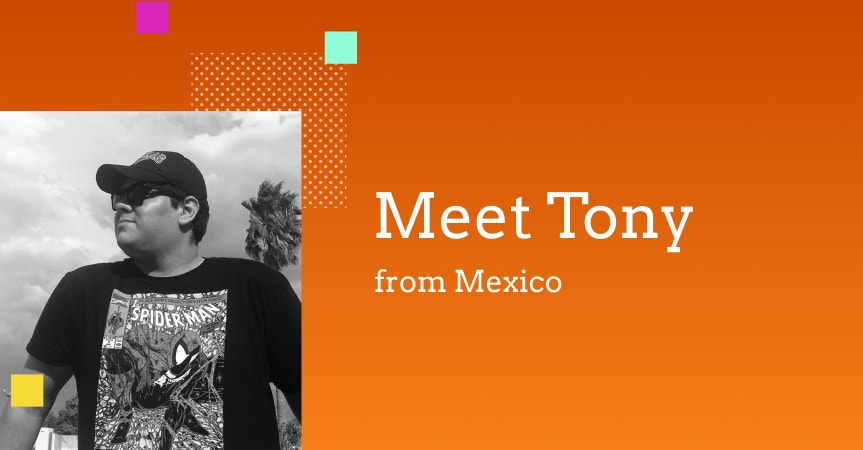 Our clients' success stories come from all over the globe. It's thrilling for us to share new successful dropshipping locations with you! Tony, our today's guest, has a lot to say about dropshipping in Mexico – and we're happy to welcome him in our blog!
Disclaimer: all the success stories published in our blog are the results of interviews conducted in the written form. Even though the editors may make some minor changes to the grammar, spelling, and/or punctuation, the respondents' writing styles, views, opinions, stores screenshots and personal photos are left unchanged.
Hi, please, introduce yourself!
Hi, I'm Tony, a 25-year-old Mechatronic Engineer from Mexico.
I started working in the automotive industry after I graduated from college, but with a 12 hour work day with a long commute, I didn't have much time for myself or my family. I knew this wasn't the life I wanted for myself, so I started looking for other options. I've always dreamt of having my own business, and when I found out about dropshipping I was hooked and I wanted to give it a try.
How did you come to the decision to work from home here in Mexico?
I had some trouble getting a new job after my internship in the automotive industry. After several job interviews, they were always telling me I was overqualified for the job or that they needed operators for labor and didn't have any positions for recently graduated engineers. So, I was staying unemployed and nobody could give me the opportunity for the job I wanted.
That's how I saw the opportunity to work from home with this new business model that intrigued me. I took the chance and that's the best decision I could have made. I am thankful to the many "Noes" I received, because it led me to a new challenge: being an entrepreneur.
Why dropshipping in Mexico seemed more interesting to you than other online business options?
Because dropshipping business model offers me the flexibility of time, and the fact that you don't need a warehouse of your own to start a business and location doesn't matter.
At the beginning of my journey I had no experience in e-commerce, I've never sold anything online, or in person. But, it couldn't stop me from starting!
How did your dropshipping journey begin?
I've learned of dropshipping in November, 2018. I researched several options regarding dropshipping, and using a special plugin seemed like the best option for me. What kept me hooked was that on this plugin's website, everything was explained simply and had so many tutorials for a beginner like me and I can say now that this certainly helped.
In January, 2019 I started creating my store, selecting suppliers and collecting products. I didn't only buy the plugin – I also got some addons  to help me with the business promotion. These solutions, I think, are key elements to my success, especially plugin for social nets since I can program when to post automatically. I also like the effect of the Recent Sales Pop up.
By March, 2019 my store was fully ready: I launched it and started running social media. After three months of my store being live, my first sale happened on the 19th of June 2019.
I remember I woke up, had breakfast on a Sunday morning, and I noticed something on my website… The dashboard appeared with money! I was quite surprised and immediately checked on orders and I had 3 new orders from the same person, I was shocked and thrilled and immediately processed them. I was pretty thrilled and couldn't believe it.
Actually, I worked hard to make it happen. I launched several social media campaigns, was active every day, invested lots of my time in SEO and my website optimization.
How does your business perform now?
For the time being this is my only store. Here's how it was performing during the month of my first sale!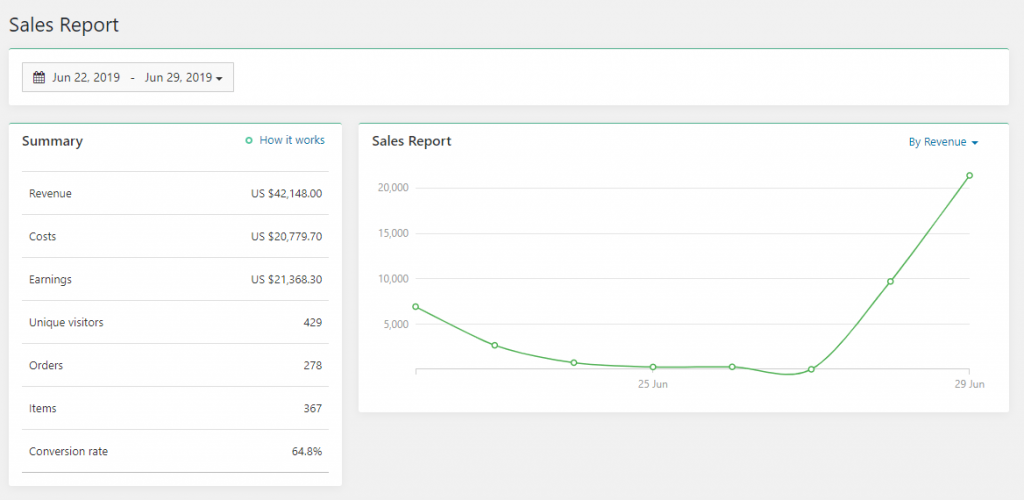 In June, I suddenly sold over $20,000 USD in the last days of the month.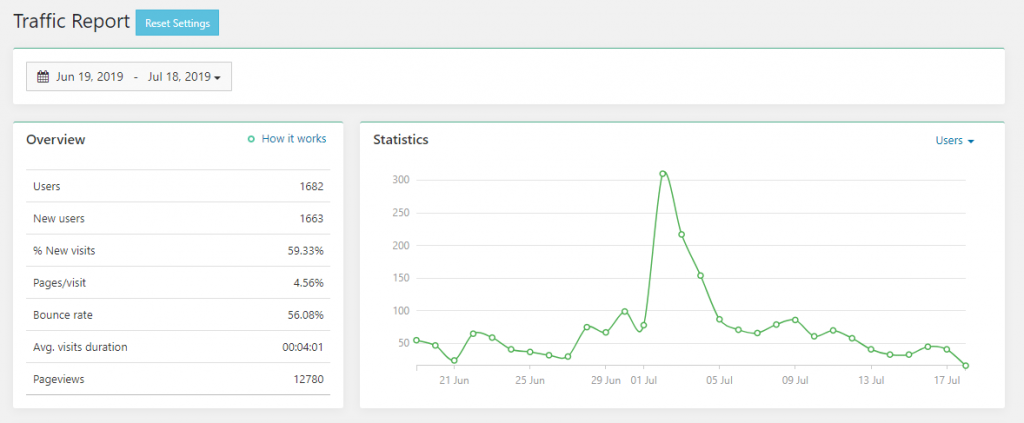 How did you choose your store niche?
I followed the tutorials about how to select your niche. Something that caught my attention was that it has to be something that I really like and know. So that's what I did.
What is your product strategy?
Having a good working relationship with my providers has helped me get the latest products. They always inform me when they have a new release, but first I checked with them if they accepted dropshipping orders, and also checked their reputation. Also, if I place a large order they sometimes upgrade the shipping option from epacket to DHL depending on the country, free of charge.
To add new products, I check the stores of my providers for new products, keep these items in Import List and publish them every few days.
I use the pricing formula recommended by the guide to set the prices. From time to time I change it to keep my prices competitive.
How do you promote your store?
Mostly, by social media campaigns. I have a good presence on Twitter: I  have reached 150,000 unique views there. Plus, SEO greatly increased my organic traffic.
Several tests and trials with my social media campaigns helped me understand who's my target audience. I figured out that my buyers are 18-35 year old men.
According to some statistics I've read, 66% of Twitter users are male. I've noticed that the views of my Twitter posts increased, the interest of my potential customers to my store also grew, and I got more direct traffic during promotional periods.
I also tried to promote my store on Facebook, but it has been quite a challenge. I launched a campaign that didn't reach as many people as I would want. Maybe my target audience was not there. And then I got my account banned and ever since I don't have a Facebook page for my website.
I spend about $20/month on marketing.
How does your daily dropshipping routine look like?
In 5 hours every day, I manage my social media accounts, update my presence on Twitter, create content for my social media and process orders.
Orders processing might take more time than the other tasks due to new orders arriving on different periods of the day. I double check orders to see if everything is legitimate so I may process them. The "place order automatically" action helps me out a lot.
The most difficult challenge for me is customer service. I always try to provide the best customer service I can, but you cannot avoid having certain issues with a client. Sometimes they don't read my Terms and Conditions or Shipping Times, and assume they are right when they say "I ordered this today, will it arrive on time tomorrow?"
So I have to deal with them patiently and respectfully, always solve their doubts and try to answer as soon as I'm able always within 12 hours.
It's time-consuming but I think answering cordially has helped me make them repeat customers.
Once, there was a customer who ordered 20,000 units of an item. His order was cancelled automatically due to his Credit Card. This customer contacted me and asked me when will the items be shipped, even though the order was cancelled. He kept on insisting that he did pay, even though it was marked as Cancelled and he didn't receive a purchase notification.
Dealing with this person has been the most challenging thing I've dealt with in customer service.
What are the legal requirements of dropshipping in Mexico?
Economically speaking, Mexico as an emerging market supports entrepreneurs and wants us to start businesses. So, legally, we get support for Small Businesses. If your business earns less than 100,000 USD yearly, you can declare it as personal taxes.
So, there's no need for me right now to register my business. But when I surpass that yearly amount, I'll be able to register my business as a Society. I'm planning to register my business as an LLC in the US as it was suggested by Alidropship blog post, in the future. Also, as a long-term plan, I'd like to make a new store and hire some people to manage it so I may have some free time for myself.
What can you advise our readers – those who already run their stores and those who didn't start the business yet?
It may be a slow process, don't give up, be patient, have faith, be persistent every single day until you make it. It might seem like nothing is happening but one day you'll wake up and see an order in your site and you won't be able to believe it… But it's real and that happened to me, so just wait for it!
As you can see, dropshipping in Mexico has a truly exciting potential. We're excited to learn about Tony's business achievements, and we wish him the best of luck with his amazing venture!
0 Comments sorted by Votes Date Added
Leave your comment