Antonio's Story: How Successful Are Online Businesses And Which Ones Work Best?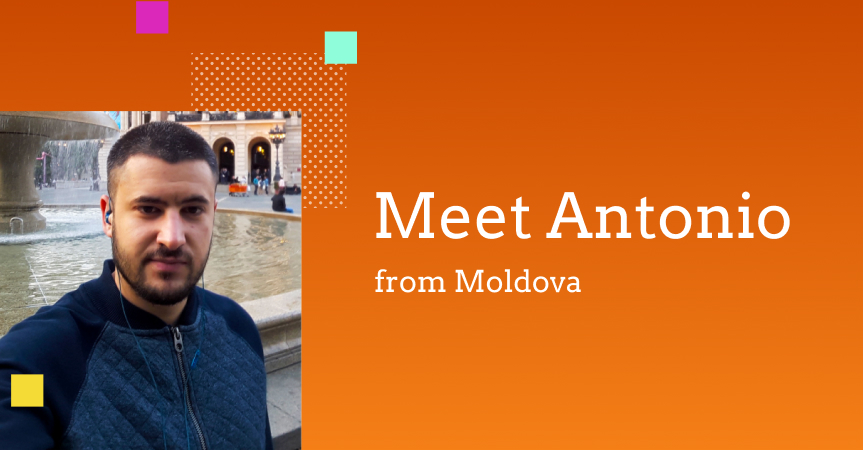 Have you ever wondered how successful are online businesses of different types? Here's great news: you don't even have to test them all yourself! Antonio, our today's guest, has already tried all the possible eCommerce venture types, and he's happy to share his feedback.
Let's see what you can learn from his experience!
Disclaimer: all the success stories published in our blog are the results of interviews conducted in the written form. Even though the editors may make some minor changes to the grammar, spelling, and/or punctuation, the respondents' writing styles, views, opinions, stores screenshots and personal photos are left unchanged.
Hi, please, introduce yourself!
Hi, I am Antonio from Moldova!
I've been looking for possibilities and methods to make money online since my high school years. My interest has influenced my choice of profession, so I've got an education in the IT sphere. And even these days, I keep researching and finding new and new methods to earn online.
In your experience, how successful are online businesses in different areas?
I think I know almost all Internet money making methods (haha). I have tried many of them, from clicking, gaming, blogging, etc. to Forex, poker, bitcoin, MLM and many others. None of them was enough to help me make a living.
Also there was affiliate marketing, but it didn't end well. I was promoting the company services on FB and Instagram, but with no results. What's even worse, my business Facebook account got blocked in some time.
This year I became a freelancer, I tried my luck in this sphere. I was editing pictures on Fiverr and videos on Upwork, but it's very hard to start and to find jobs when you are not a professional.
Why did you decide to try dropshipping? How did it all begin?
After a couple of months of freelancing, I decided to look for something new and more rewarding.
I saw a video about dropshipping business with Shopify. I've heard about dropshipping before and I liked the great bonus of not having to manage stock. But I thought it's too hard to start, and I didn't have any proper experience in eCommerce. So, I thought it's only for entrepreneurs and businessmen.
But after I watched a couple of YouTube videos about dropshipping business, I got more confident, and decided to try it.
Shopify video about dropshipping has inspired me to start with this platform. I bought a domain, and started to prepare my store. At this time I kept searching and watching videos about dropshipping until I saw a video about a special plugin for dropshipping business.
What made me interested was that with Shopify, I need to make monthly payments if I keep using this platform and its solutions. But with this plugin, it's just a one-time payment, no matter how long I stay in the business.
So I decided to switch to this platform. I watched many videos on their Youtube channel and other sources. They helped me make up my mind, so I bought the original plugin and also the hosting.
I chose the Raphael theme for my store, set up the website, and started to import products. I noticed that this plugin is quite easy to set up. Also, I liked it that it requires minimal time to manage my store daily.
Do you remember the first sale made from your store?
Yeah, of course. And I even remember the name of my first customer.
I got this sale after about 10 days of the business running. That was an organic sale from Instagram, I haven't even made any ad for this product.
That was amazing. I was so happy at that moment. It was my first sale, and all that day I had a smile on my face.
How does your dropshipping business perform now?
Now, I run 2 stores. Together, they brought me about $1,000 in revenue in 2 months after I started with the business.



How did you choose the niches?
I've chosen a wrong niche for my first store. It has a lot of customers, so I thought it's a good one. But, it turned out to be very competitive, with lots of giant stores. And after less than a month I decided to search for other niche. I wanted to choose a niche that I like myself, with the products I would personally want to buy.
So that's a tip for you: don't choose a niche just for money, choose a niche which attracts and inspires you.
After that, I put all my forces into the second store, and I made in about 1 month 900$ in revenue.
To be fair, my first store also brings me some sales, sometimes even without my activity. That's wondering and exciting.
Can you tell us more about your product strategy?
I am always looking at products' reviews and ratings. I only focus on products and suppliers with a rating greater than 4.5 stars.
I'm doing my best to add new good looking products to my store every 1-2 weeks.
How do you promote your stores?
At the beginning, I started promoting my first store on Facebook, Instagram and Google, but it brought me no results. Sadly, I have spent money without getting them back.
After I started my second store, I also tried a few ads with FB and Instagram, but also without results.
Then, I tried my first shoutout, and it brought me 3 sales. After that, I started making only shoutout promos. They proved to be my most efficient marketing instrument. Also, I have got a few organic sales from Google and social networks.
What can you say about your managerial dropshipping routine?
I spend from 1 to 4 hours to manage my stores daily. It takes me quite a lot of time to find new products and influencers.
But, there are days when it only takes me a few minutes to manage fulfilment or to answer incoming questions. Also, it can take much time when I look at my reports and analytics. When I'm running a shoutout, I watch how people are surfing my website.
The most difficult challenge for me is to find an influencer with a good engagement. Many of them are running shoutouts weekly, so I can't get any noticeable results. And my niche has a limited number of influencers, and it's very competitive.
Thankfully, I haven't got any really difficult customers. Once, I got an email from a buyer. Next day after placing an order, he asked me where is his package, which was funny.
Did you register your dropshipping business in Moldova officially?
I haven't registered my business yet. Still, I am using Stripe and Payoneer to accept clients' payments.
What can you advise our readers – those who already run their stores and those who didn't start the business yet?
I am just at the start of my journey, so I can't advise many things, I need to learn more and more. But, here's what I already know for sure.
At first, choose your niche carefully.
Learn FB and Instagram marketing before starting making ads.
Analyse everything you are doing and going to do.
Note that plugins give a perfect start for beginners.
If you are interested and passionate, you can do that!
How successful are online businesses when you're a newcomer with a limited background in eCommerce? Antonio's experience proves it that even without a deep knowledge in the area, you can find the solution that works fine enough for you. And, it's not impossible at all to make this business thrive!
0 Comments sorted by Votes Date Added
Leave your comment