Step 2. Write SEO texts for the home page and the categories' pages
It's time to improve your store SEO on a more global level!  We've already pimped product pages – let's make your Home and Categories pages SEO-friendly as well. Don't neglect this step if you want to get organic traffic to your site (which means promoting your store and getting buyers for free!).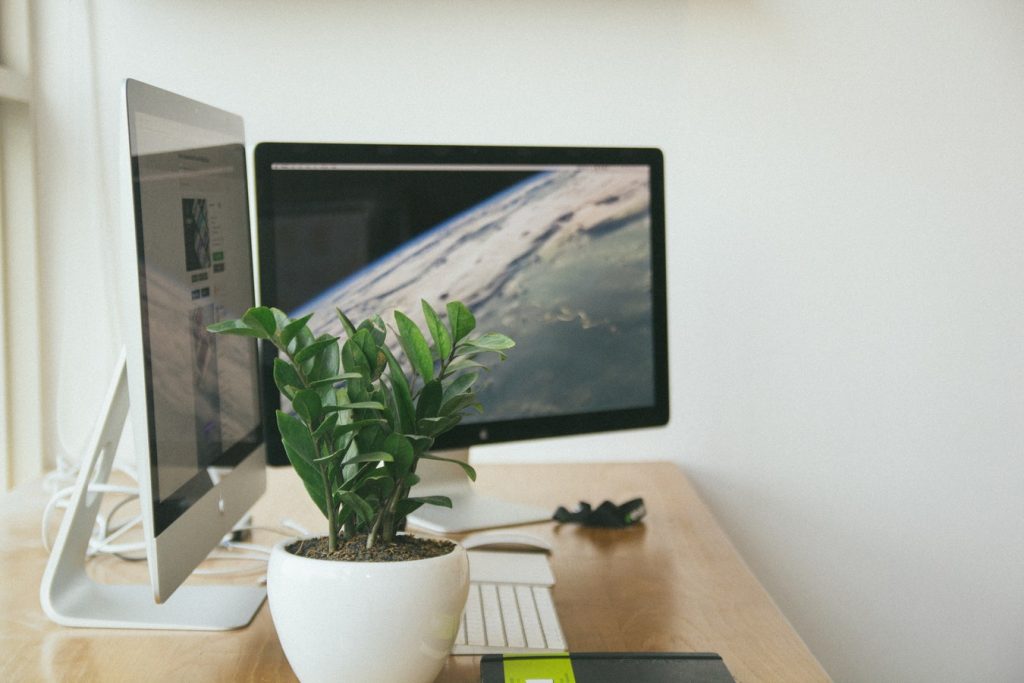 First, we would recommend you to set up a MozBar extension – it exposes your page elements that are important for SEO.
Download this extension, create an account at moz.com and go to your Homepage.
A MozBar will pop up (you can always close it pressing a little 'cross' button on the right). Click on the Page Analysis icon with a magnifier.

Here are the parts of your page that are the most important for searching engines – Page Title, Meta Description, Meta Keywords, H1 and H2.

To create the title, description and set keywords, go to AliDropship => Settings => SEO. The title should contain a brief depiction of the page while the description should be pretty short as well but provide more info. Keyword field should list more than 5 keywords you find relevant to your store.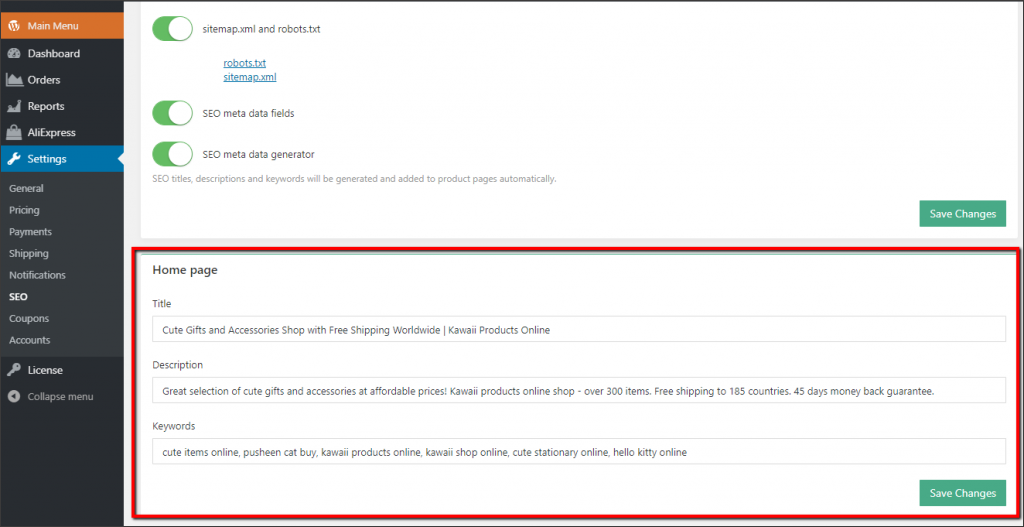 Besides the fact, that all these parts help search engines to learn what your page is about and index it, your page title and description will be shown to people here or there. So, make sure they are readable and informative.
As you see, a title and a description are vital for SEO and your store structure. But let's move on – we have some more work to do!
Now try to put a SEO text on the Homepage of your site. Go to Customization – Home – Article. Add 300-500 words SEO article. It should contain related keywords that will help search engines to identify your site contents – but go easy on them. Even if we make this text mostly for SEO, it will be available for your site visitors too! So, make this text as easy to read as possible and divide it to several paragraphs to make it look aesthetic. In this text, tell people about your range of products, what benefits they can get from your shop, how fast your delivery is, etc.  Don't forget to click 'Save Settings'.
As for the title of this article – make it in a Heading 1 style. Why? You see, H1 tags (for text in Heading 1 style) tell Google that it is probably the biggest text on the page, and thus the most important one. So, H1 titles have some impact for SEO too – so make sure that each page has only one (or none) Heading 1 line.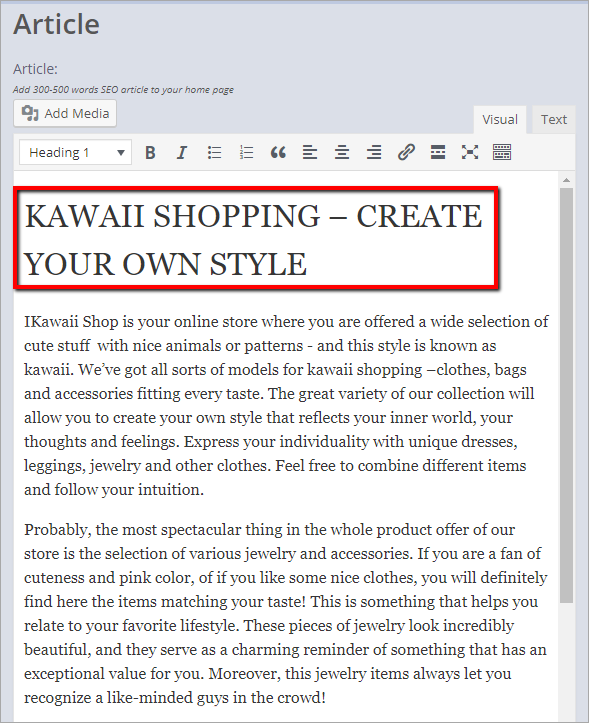 Apart from encouraging search engines to better index your page, Heading 1 style makes the text bigger (Heading 2 make it bigger too but not so much), so it serves like a kinda page's title and helps to divide the page into logical parts. As you already know, Google analyzes the behavior of your site visitors, and if your page is not well-structured, separated into several sections and look like a mess, visitors will close your page right away. And we don't need that. Really.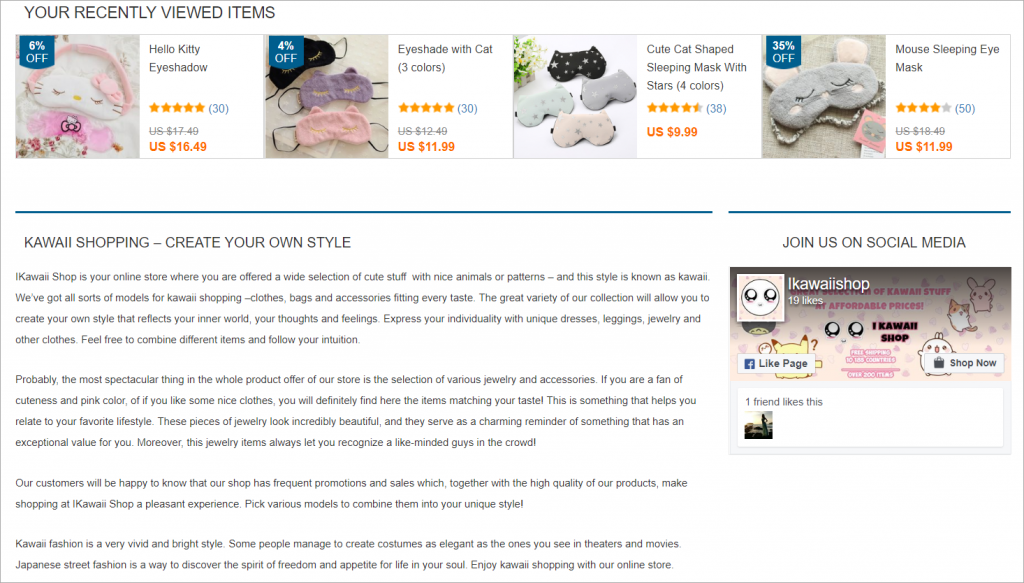 Now, when your Home page text is ready, let's make texts for your site Categories. Go to Products – Product categories.
Click 'Edit'.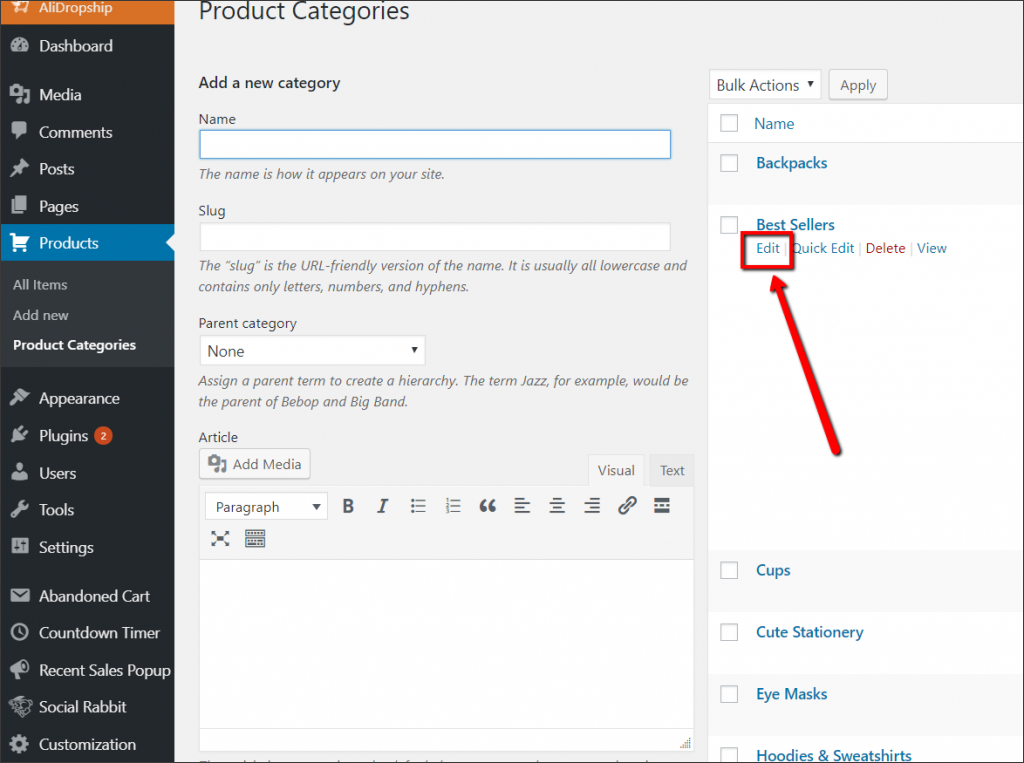 Write your article. It's all the same as for a Homepage text – it is mostly for SEO, but it still should be readable. This article should be optimized for search engines (contain keywords) and it should describe what product customers can get in this category and some product benefits.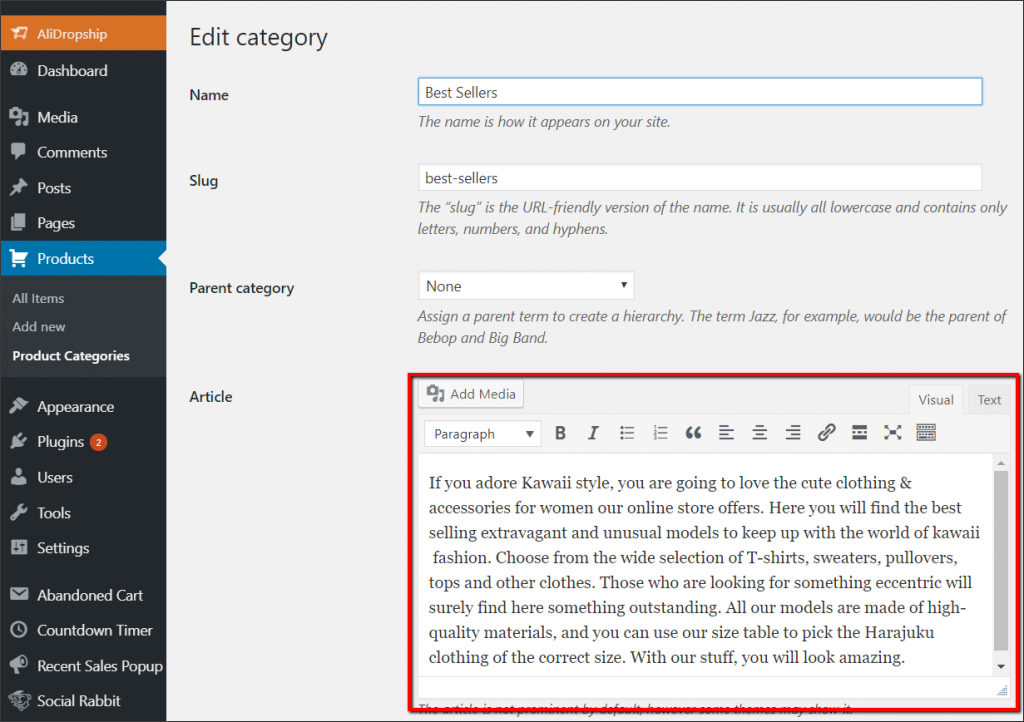 As for the Meta Title, Meta Description, and Meta Keywords – they are important for search engines as well. Don't forget about them.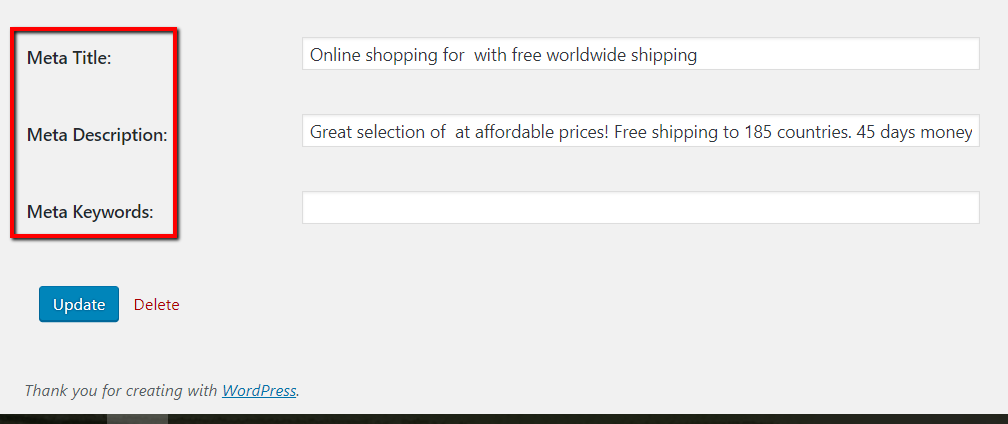 You already have two of these fields pre-filled, so all that's left is to type the name of your category and types of your products in the gaps. And enter some related to this category keywords. Continue to create articles and fill in meta titles/descriptions and keywords in a similar fashion.

Looks great!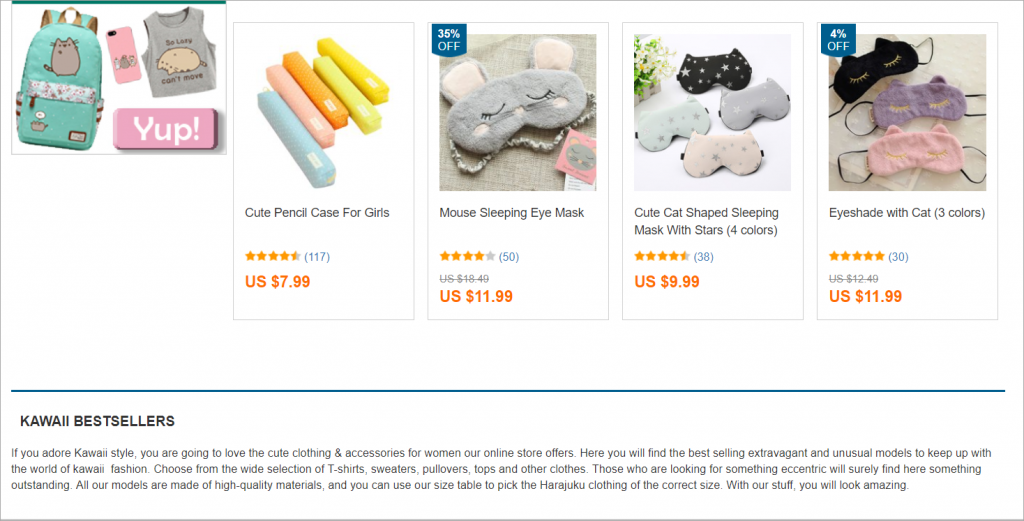 Okay, we are done here! Pat yourself on the back – now your store is SEO-friendly, and you made it so yourself! Now it attracts buyers as it is, and no expenses are needed.
However, to get more orders, you should try to promote your products on social networks. In the following articles, you'll learn how to do it and significantly increase your income. Don't worry, it's not difficult – we'll explain everything in simple words 🙂 Good luck!
5 Comments sorted by Votes Date Added
Leave your comment