So, you've installed AliDropship plugin. What's next? Of course, theme setup. Your theme determines how your store will look like. The first impression can become the last one, which is especially important for online stores. Bad design will cause high bounce rate, and the visitors will hardly want to return for the second time. Besides, the theme should not just be pleasant to look at – it should be user-friendly as well.
Key points for choosing the theme
Here are some important aspects to consider when choosing the theme for your dropshipping online store.
Fast loading.
A perfect theme is fast and lightweight. It should not complicate the work of your site. Otherwise impatient customers can just click it shut. So, the store theme shouldn't distract by special effects, complicated menus, sliders and other graphic elements. They complicate perception and divert attention from the choice of the goods. A simple site which loads quickly can be better than one with lots of superfluous additional features which takes more seconds to load.
Easy customization.
A quality theme should have a convenient system of settings in the customization menu. You should not climb into the program code of your store desperately trying to change something. Just select the necessary parameters, make a few clicks and enjoy the results.
Responsive design.
Your theme should be cross-platform and optimized for all types of mobile devices – smartphones and tablets. Besides, it should work in all popular web browsers: Google Chrome, Firefox, Internet Explorer, Safari, Opera. Make sure your store looks good wherever used.
It is worth spending some time and effort to choose the perfect theme for your store. The look and usability of your dropshipping store can have a huge influence on your sales volume. If you choose a theme which suits your business well and is adapted to your customers, you will enjoy a greater success.
Choosing AliDropship theme
AliDropship original plugin is compatible with the built-in themes only. It does not work with WooCommerce based themes.
There are three built-in themes: Da Vinci, Michelangelo, Rembrandt, Raphael and Da Vinci 2.0. All themes are presented in Flat Design style which proves to be the most efficient for online stores.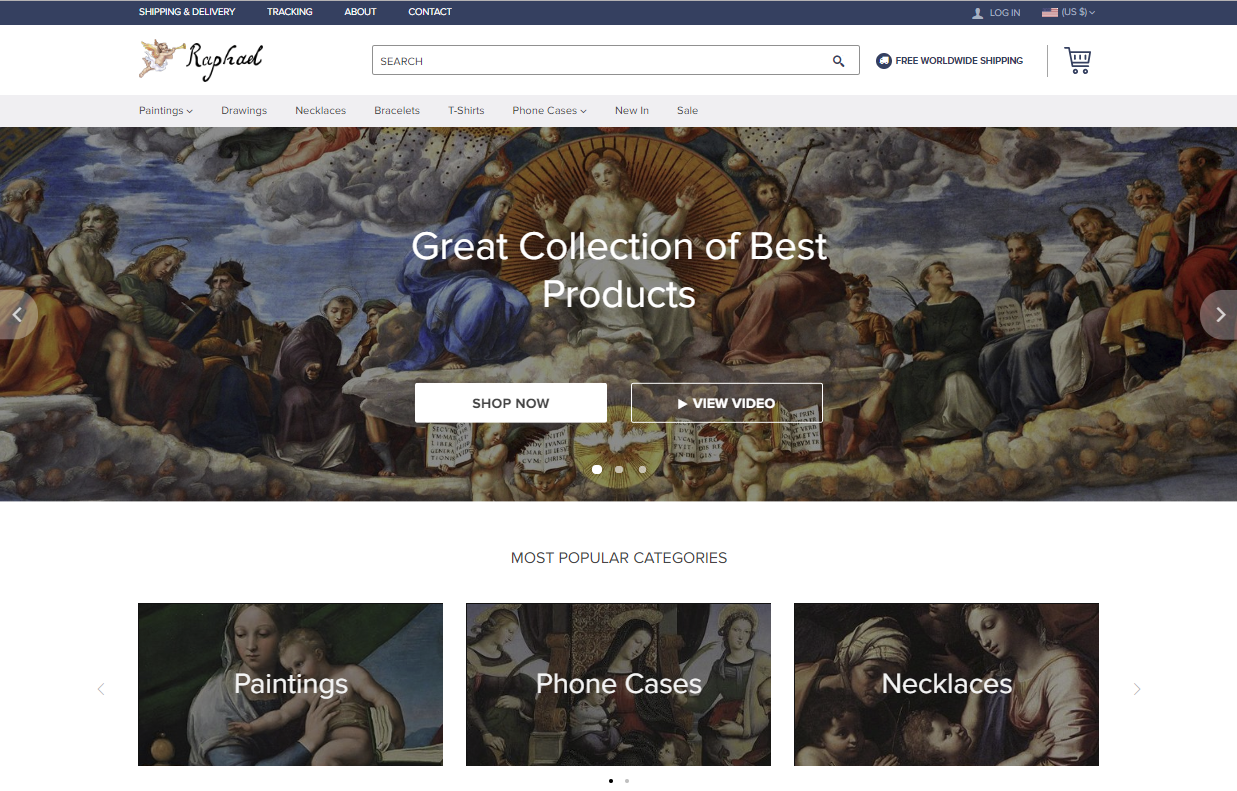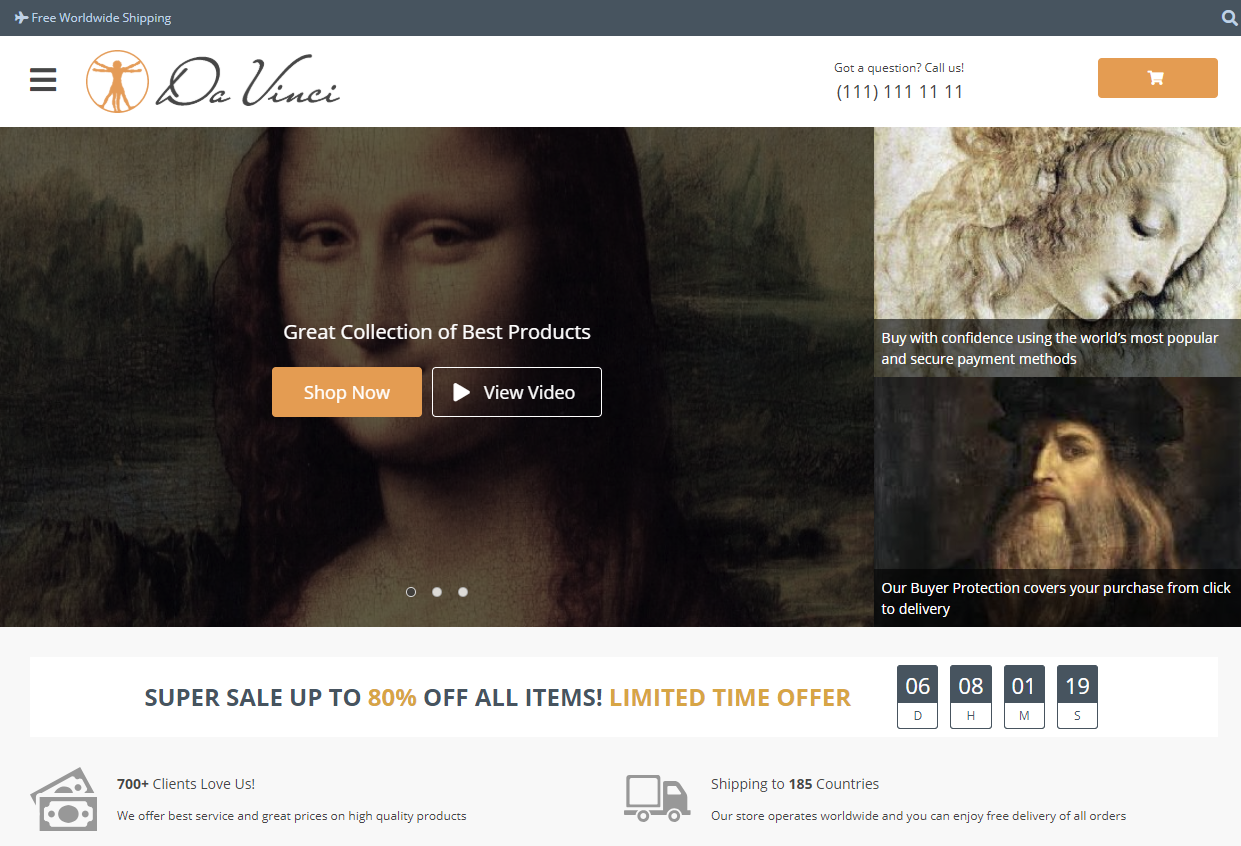 Themes are completely localized, so you can translate the theme into the necessary language. Please note that if your target audience include people reading from right to left, like in Arabic, Hebrew and some others languages, you should choose Michelangelo. This theme is compatible with RTL languages, so you will be able to optimize your site elements for the chosen audience.
AliDropship HTML5/CSS3 themes are tested on multiple devices, and they are fully responsive. They are supported and regularly updated to provide the best performance. Bootstrap 3 is added to all themes as well.
All themes have the same set of inner pages. Here are: Category, Grid, Left Sidebar, Right Sidebar, Product Page, Order, Checkout, Cart, About, Contact, Blog, Subscription form, and Search form. Themes are easy to customize since they have a special built-in customizer. If you have two or more built-in themes, you can easily switch between them keeping your settings.
All AliDropship themes are SEO optimized. They are user-friendly and have features that make product search more convenient, such as images inner zoom, special product groups, convenient top and main menus.
The themes differ mostly by layout, and there are some different elements. If you want to have sticky menu, you should choose Da Vinci. And if you like banners slideshow and want to see it on your site, choose between Michelangelo and Rembrandt.
AliDropship Woo plugin supports standard Woo themes developed by WooCommerce team. It is not compatible with AliDropship built-in themes. We recommend choosing such free themes as Shopper or Storefront. There are also paid themes like Flatsome and Claue, they cost $59.
Installing theme
To install the theme, follow these simple steps:
Download one of the built-in themes

here

.

Enter your WordPress panel.
Go to Appearance => Themes => Add New.
Click Upload Theme to upload the zip file you have downloaded.
Wait until the installation of the chosen theme is completed.

Click Activate.
That's it! Now you can customize your theme as you wish.
The General section of the Customization menu includes some basic configuration settings and allows adding default pages and menus, changing template colors and images, uploading a background image, integrating Google Analytics ID and Facebook Pixel ID, etc.
You can modify the way your Home page looks like. Choose buttons color, paste your YouTube video ID, manage promo counter – all these changes will bring more individuality to your site. The Upload button allows changing your grid images – you can select files from your media or upload a new one from your computer.
You can use option Manage with Live Preview at the top of the page. This function allows you to see changes on your website front-end as you make them.
All themes are regularly improved and updated.  If you want to have the optimal performance, check for new releases and keep your themes updated. You can find update notifications in Appearance => Themes or check available updates in Updates section.
Well, now your store is almost ready to welcome customers – but that's not it yet! Move to the next step to learn how to upload store design elements.